Date(s):
2019
Medium:
Digital, Short Film
Bluey the Blue-Horned Devil finds his college is a holiday-themed short animation for Lawrence Technological University (LTU) and a loose remake of the Rankin/Bass holiday classic Rudolph the Red-Nosed Reindeer directed by Sharon MacDonell.
I provided additional animation that both captures the spirit of the short and matches the visual style that established by lead animator and fellow colleague Carina Taylor.
Being a remake of Rudolph the Red-Nosed Reindeer, the short follows the plot of the Rankin/Bass classic—though with college-themed creative liberties. The visual style is a tribute to the aforementioned done in Adobe Animate.
When I came aboard to help out the project I was tasked to essentially finish what Carina had started as she was preoccupied with other projects.
One interesting challenge that came to light was for a visual gag near the end of the film, where three characters randomly bring out a holiday-themed gifts—the challenge being that said gifts are not exclusively Christmas themed. Sharon (the director) had suggested the (ingenious) idea of what one would bring to a holiday-themed office party and we decided on a crock pot, a wrapped gift (colored in an LTU-inspired theme), and a calendar.
In the establishing shot where Bluey enters campus and walks over to meet Dr. Moudgil, there is a cameo of Carina (talking to another person off-screen) and myself (pacing my way out of the scene).
Character Sheet for "Bluey" by Carina Taylor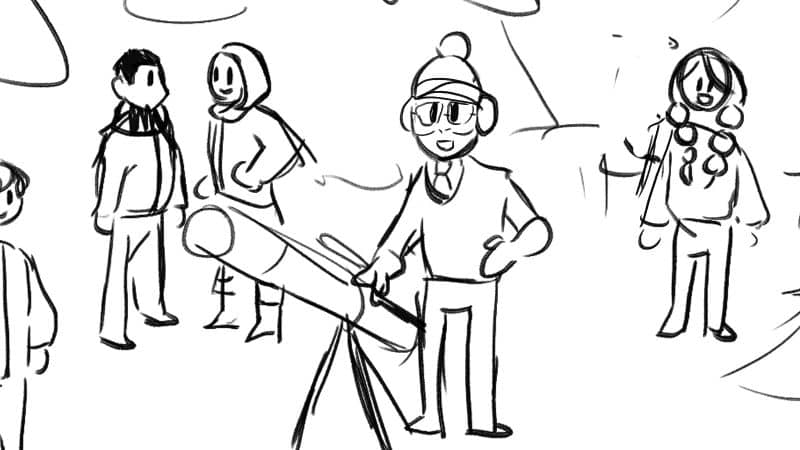 Storyboard by Carina Taylor